"With Dytter, you're investing in a relationship between a self-employed caregiver and a care receiver that is more stable than usual." André Brand, then a director at Cordaan, can safely be called an expert on experiencing booking platform Dytter. Cordaan was the first organization to choose Dytter. He's seen the concept grow from up close; from pilot to platform.
Let's first tell you something about this 'old-timer' with an impressive career in healthcare. From 2004 to 2010 André Brand was a director at Achmea, and transferred to home healthcare at Zorgbalans afterwards. He's worked there for about 4.5 years before starting as a chairman of the board at Thuiszorg Cordaan Amsterdam and surroundings in 2014. Summer 2020, André started as a director at HilverZorg.
As chairman of the board of healthcare organization Cordaan, André first came into contact with the Dytter concept. At this healthcare organization, the first pilot with the booking platform was put into play, and - to this day - Dytter and Cordaan have the longest working relationship and Cordaan is the biggest booker. The healthcare organization uses the platform for hiring self-employed workers, and André's experience has been so positive that he's now doing the same at HilverZorg as well.
Best form of working together.
In his role as director at Cordaan, André has spent many hours with Dytter at the drawing table. "We wanted to use the Dytter platform and create the most ideal and efficient way of working together; both for employees of Cordaan and for our clients and care receivers" – André. "All those conversations have paid off. Cordaan and Dytter have found an ideal way of organizing the platform for Cordaan. It has become some sort of co-creation, and I'm proud of that. Every organization can give the platform its own signature, and we've done that."
Being in control yourself.
André believed in the ideas of Dytter in such a way that he contributed to the concept and made funds available to make it a reality. André: "The concept – that people are in charge about the care that they're receiving themselves - is not only fabulous to me, but also fits in with current times and themes. More elderly want to be more in charge. Furthermore, I'd love to have an opinion about whoever is getting me out of bed in the future and at what time. And, surely, I'm not the only one with this wish."
More than fleeting contact.
Cordaan is the first healthcare organization to make use of Dytter's system. "We even set up the recruitment campaign for self-employed caregivers" – André. "We saw the development of freelancers in healthcare. More and more healthcare workers are choosing to work in this way, and me and Cordaan wanted to take part in that. We also wanted to tether self-employed caregivers so that we could offer a broader pool of care employees to our clients. And it worked. Cordaan's neighborhood teams have been working intensively with Dytter's digital platform from day one, and they know how to employ the right freelancers at the right time and place. This works perfectly for all parties. The connection between this group of people and Cordaan increases the involvement with clients and the quality of healthcare that is provided. With this system, you invest in a less fleeting relationship between the freelancers and clients than when you hire a temporary worker for a number of hours. Dytter's freelancers get to know clients, which is profitable and fun for both parties. Apart from these advantages, the collaboration in terms of system integration is very efficient as well."
HilverZorg.
During summer 2020, André started as a director at HilverZorg. Will he continue the collaboration? "Yes indeed," André says, "the conversations have already started. We've already had the first presentation. Here too, we'd love to involve Dytter optimally. In home healthcare we're already using Dytter, but we also want to make use of the freelancers in HilverZorg."
Futureproof.
Let's talk about the use of the app for the iPad, the booking app that enables the elderly to hire home help. "I believe that the new generation of elderly will definitely make use of that. Elderly are getting more handy, also digitally. One press of a button, they'll be able to determine what for and when they need someone to help. I'm a huge advocate for that. My idea is to include a wellness offer. With the combination of healthcare and wellness, you'll be very futureproof. For the bodily discomforts, you can hire a healthcare helper, for a nice and good day there will be a wellness worker ready for you. That's how you become futureproof."
Keep reading.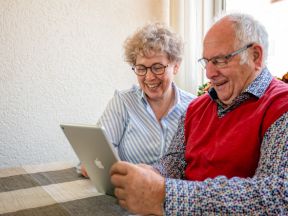 No shortage of healthcare staff, but of technology.
No staff shortage, but technology shortage. Something we say often. But why? We explain in our blog.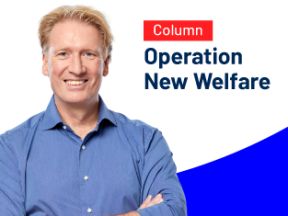 We all know it: healthcare is knee-deep in shit.
In our quarterly column, Dytter founder André reflects sharply on healthcare and the state of affairs surrounding the revolution that our platform is unleashing.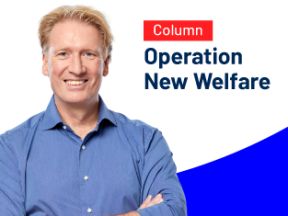 We're taking care of healthcare through a platform.
In our quarterly column, Dytter founder André reflects sharply on healthcare and the state of affairs surrounding the revolution that our platform is unleashing.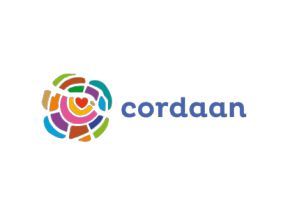 Meet the planner: Wendy
With the many conversations Dytter has with planners in the healthcare profession, special stories emerge which we love to share with our Dytter healthcare professionals. In this blog, the spotlight is on Wendy Mand.