The 66-year-old Tonnie Vogel has just taken early retirement, but is certainly not sitting still. As an experienced ICT manager, she is involved with Dytter and is part of the Advisory Board. "André Piso and I have the same ideas and visions. We have the same dream."
Tonnie Vogel can safely be called an exception in the ICT world. She worked for Sensire for sixteen years; first as ICT manager, later as Innovation manager. She also became responsible for the Medical Service Center at Sensire - the largest healthcare organization in the "Achterhoek" region. "All too often I was asked if I came to take the notes," laughs Tonnie. "A woman with a high position in automation, they were not used to that in those days. By definition, they assumed I would be a man. Mail to 'Mr' Vogel was no exception. Where ICT was initially the priority, my interest and knowledge has shifted to innovation where ICT can provide a helping hand."
Look at the whole picture
Since Tonnie retired, she only does things she enjoys. Sometimes from her home, sometimes from her camper somewhere in sunny Southern Spain. One of the things she enjoys is her role within the Advisory Board at Dytter. Tonnie shares her vision on healthcare with the founder of Dytter, André Piso. Both believe that healthcare should not only be about 'care', but mainly about 'health'. In other words, the whole picture. "We are flying the wrong way with care," Tonnie believes. "People who live unhealthy lives have a higher risk of becoming seriously ill. Knowing this, I find it strange that unhealthy food is cheaper than healthy products, so poor people run a greater risk of getting sick. There is still a lot of profit to be made in the food industry. Let's focus more on education in schools and tell people about the benefits of healthy food and exercise. One euro spent on health yields ten euros in health benefits."

Doing it yourself

Health is something that belongs to the individual and not to the doctor, Tonnie believes. "It is of course strange that, when your physiotherapist recommends you to do certain exercises, you walk into his practice with excuses why you didn't do the exercises. The responsibility should lie with the individual, not the doctor or physical therapist. Let's get to the root cause of the problem and not fight symptoms and medicalize everything."
Countering loneliness
Tonnie thinks that loneliness among the elderly is a good example. Her opinion: put a grandchild with a lonely elderly person and he or she will immediately feel better. Tonnie: "Growing old is not about disabilities that develop over the years, but about quality of life. That's why I introduced the iPad for the elderly at Sensire in 2011. We were the first and only one in the Netherlands with this plan. Many thought it was a crazy idea and there were even questions asked in parliament about it. You have to remember that at that time the iPad was still innovative. Yet 1400 elderly people in the Achterhoek region received such a device. The iPad enabled them to have daily contact with their children/grandchildren. The clients were able to see the most beautiful drawings on the screen and had an occasional conversation with the care worker. Research later showed that these elderly people themselves felt that they were less lonely and could therefore continue to live at home for longer. The corona crisis in particular shows that contact is important. Video calling is therefore widely used."
Time for a change

At 66 years young, Tonnie is far from relying on care. "Should I need help in the future - let's say in about 20 years - I want to be the one to decide. Anyone who applies for a care assessment now and is registered with a care institution has to wait and see who rings the bell. That is going to change. It's also strange that, at a time when you can arrange everything yourself, you just have to wait and see who comes to help you take a shower. It's very private, but you have no say in it. That is the difference between a traditional care organization and Dytter. At Dytter, you will soon be able to choose who will offer you help. That will be someone with whom you have a click, someone who, for example, also loves dogs and has the same hobby", says Tonnie.
The same vision
Tonnie has worked at the highest level in healthcare and therefore knows healthcare and everything that comes with it well. Her help within the Advisory Board is therefore more than welcome. But most importantly, she agrees with Dytter's vision. "Ultimately we are moving towards the way André Piso sees it. But I think it can be even broader, that we should also offer support in other areas than just physical well-being. We have to ultimately look at the total picture. Who reads the newspaper once, lets the dog out. That kind of thing."
Supply and demand
he reasoning behind Dytter: linking the right care professional to the right client. With more say from the client about who and when the professional visits. The independent professional (zzp'er) signs up on the Dytter platform. If a care organization is short of hands, it can hire a professional via the platform. That is where supply and demand come together. Tonnie: "This will change in the future, I am convinced of that. Dytter is still under construction, but I have every confidence that in the future older people will be able to choose for themselves who they want at their bedside. And that is necessary; the 80-year-old of today is different from the 80-year-old of the future. But it also works visa versa. The care professional wants to build a bond with the client and decide for herself who she rings the doorbell with."
Sensire
At the moment, Sensire is setting up the platform in such a way that the care workers can profile themselves and make their wishes clear. "This is already a great start," says Tonnie. "The employee can indicate what days she wants to work and what her hobbies are. The district nurse can use the platform to make the match with the client. This tool works well for both sides; the regular Sensire employee gets more say and the client is helped by a professional that suits him/her. Hopefully this will lead to less outflow among the permanent staff. The technology is almost ready, the next step can be taken soon."
The future
How does Tonnie see the future? "In 5 years the idea of Dytter will be the most normal thing. This is just going to happen, I'm convinced of it. We are moving towards self-management. We'll have access to information, the doctor will be our coach, we'll be in the hospital for a shorter time and, where necessary, we'll call in help. Help that suits us."
More to read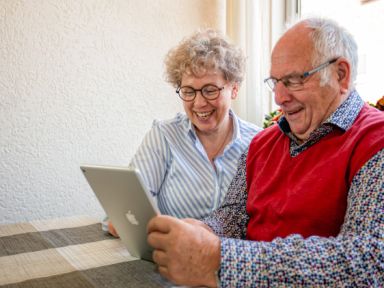 No shortage of healthcare staff, but of technology.
No staff shortage, but technology shortage. Something we say often. But why? We explain in our blog.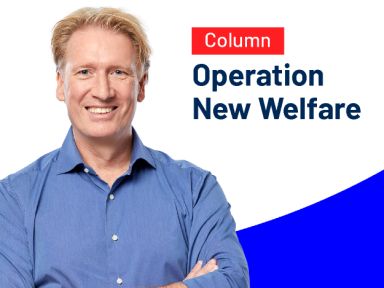 We all know it: healthcare is knee-deep in shit.
In our quarterly column, Dytter founder André reflects sharply on healthcare and the state of affairs surrounding the revolution that our platform is unleashing.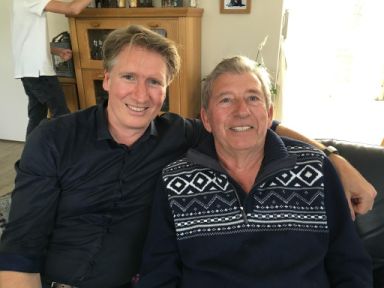 Sorrowful message about André's dad.
On monday, April 25th, André's dad has passed away. The idea for Dytter started with him. He had Alzheimer's and needed more and more care.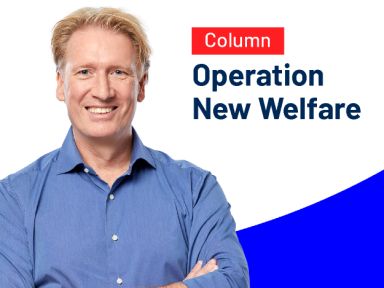 We're taking care of healthcare through a platform.
In our quarterly column, Dytter founder André reflects sharply on healthcare and the state of affairs surrounding the revolution that our platform is unleashing.